We are the biggest manufacturer of UL Listed Copper Bonded Rod, Copper Bonded Rods Accessories
Copper Bonded Rods are the highest quality of  Copper Bonded Rods available today market. We use a unique manufacturing process, which includes drawing the steel rod to size before the copper bonding process begins. This results in a straighter, harder steel core, making installation easier. We uses a continuous electro plating process over the steel core that results in a permanent molecular bond that provides decades of reliable performance. Our state of the art ISO registered manufacturing facility provides a consistent, high quality and finished of the product that is used in millions of installations around the world.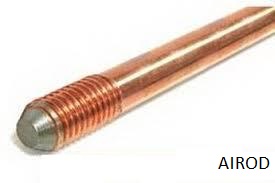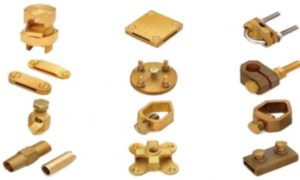 Copper Bonded Rods are the ideal driven earth rod as they offer the installer an economical and efficient earth rod grounding system. Pure electrolyte copper is uniformly molecularly bonded into a high tensile steel core to a minimum thickness of 25 microns, thus ensuring excellent corrosion resistance and eliminating electrolytic action. Coupling threads are formed by a rolling process to ensure thread strength and to maintain the integrity of the molecularly bonded copper. A good earth should have low electrical resistance to earth, good Corrosion resistance, and ability to carry high currents repeatedly, a reliable life of at least 25 years.
These Copper Bonded Rods are molecularly bonded with 99.99% pure Electrolytic grade Copper over a low carbon tensile steel rod with the thickness of 0.25 copper coating. We are also able to deliver customized copper thickness between 25 microns to 350 microns. All the raw materials used in the Composition strictly comply with the certified standards. The carbon tensile steel complies with BS 970 & AISI 1018 and has a great capacity of being stretched or extended at least up to 600 N/mm2. The copper used in manufacturing these Copper Bonded Rods conform to BS 4360 grade 43A. In order to prevent oxidation of copper bonding each rod is treated with advanced technologies.
In comparison to steel rods, in the extreme soil condition. the copper provides high corrosion resistance and exceptionally long life. The bonding of copper layer to steel core via an electrolytic process ensures a perfect and tough bonding between the steel and the copper. The UL Listed Copper Bonded Rods Manufactured by AI EARTHING Amiable impex.
Visit our Other Websites for Copper Bonded Rods, Exothermic Weld Powder, Copper Braids, Copper Laminated Connectors and Other Products::